It may take weeks or even months for you to get an accurate evaluation of your appearance. Allow yourself ample time for getting used to the makeover. You may be surprised to find that most people won't recognize that you've had facial implant surgery — only that you look better.
WHO IS GOOD CANDIDATE FOR CHIN AUGMENTATION?
The success and safety of the process depends on your candidature during your consultation. There is a customized solution for each patient according to their expectations. The doctor will discuss your face, your concerns about your expectations and explain the possible consequences of the procedure. If you are troubled by a small chin, weak jaw, or lack of facial contour, plastic surgery with facial augmentation can benefit you. For a person with a relatively short neck or unnatural bulge under the chin (submental fat), chin augmentation can provide a long neck contusion and reduce sub-mental bulge, which will improve one's profile. If your facial structure is disproportionate – like the chin has been reabsorbed – it can significantly affect your self-image. In particular, a "weak" chin on a man can feminize the face and also inappropriately carry negative psychological overtones about his character. For the female, a weak chin may make a prominent nose appear even more visible and resemble a bird's face.
People with asymmetry or congenital defects may also benefit from this procedure. Plastic surgery on the facial bones or with facial implants is best performed on people whose head and scalp have reached physical maturity, typically in late adolescence (17–18 years of age) Occurs in Before making any decision about your surgery, ask your surgeon if there are additional procedures that can increase your facial effects. Chin and cheek augmentation can be a helpful procedure and can often be accompanied by a rhinoplasty or nose job.
RESHAPING CHEEKS AND CHIN (CHIN AUGMENTATION)
Local anesthesia along with a sedative is sufficient for some facial surgeries. However, in most surgeries, general anesthesia is recommended.
Process of chin Argumentation (correction) may take anywhere from 30 minutes to an hour. During the procedure, the surgeon selects the proper size and shape implant to enhance your appearance and inserts it into a pocket over the front of the jawbone. The small incision to create the pocket and insert the implant is placed inside the mouth (along the lower lip) or in the skin just under the chin area. Usually, the chin is taped after surgery to minimize swelling and discomfort. Sutures in the skin will be removed in five to seven days. If an intra-oral incision is used, the sutures will dissolve.
Recovering from chin surgery RECOVERING FR
Be prepared for swelling and some kind of discomfort for some days in an area that has undergone surgery. People also complain of difficulty while smiling and talking chin augmentation before and after surgery. This is normal and only temporary condition post-surgery. The area around the chin and neck may also show up some black blue marks. Follow the instructions of your plastic surgeon regarding eating, dental hygiene or any restrictions following chin correction procedure.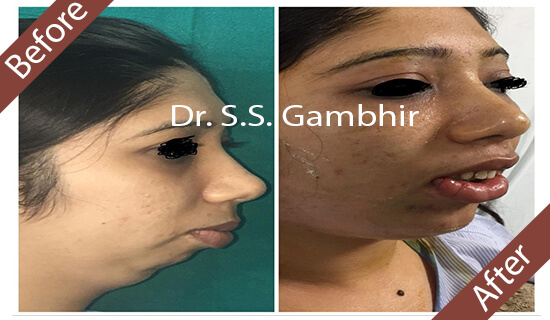 It takes about an hour or two for inserting a jaw plant. Pockets for inserting lower jaw implants are created by making an internal incision on the side of the lower lip. Self-dissolving sutures or stitches are used for closing the incisions.
Recovering from jaw surgery
You may observe significant swelling immediately after surgery, which may peak after 24-48 hour. Although major swelling subsides after several days, mild swelling may prolong for months preventing your final facial contour to be noticed.
Expect some dietary restrictions and limitations on your activities during the healing period. It may take several days to weeks before you may be able to talk, smile or move your mouth normally. The surgeon would give you special instructions regarding dental and oral hygiene care during this phase.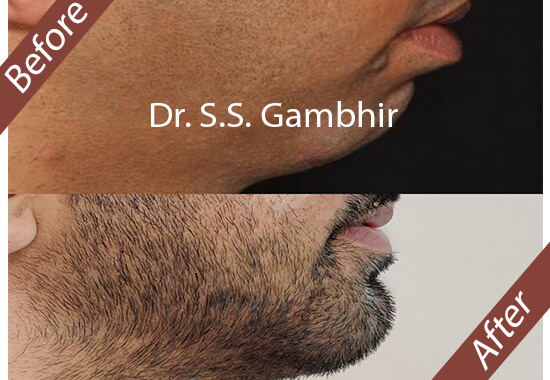 Surgical procedure for cheek implants may take 30 to 45 minutes. Surgeries for cheek implant are also done along with other cosmetic surgeries including forehead lift, face lift or eyelid surgery. In such cases, implants are inserted via the same incisions, made for the earlier procedure. If cheek implant surgery is done in isolation, a cut is made either on the lower eyelid or inside of the upper lip. A pocket is thus created for inserting the implant. After surgery, a dressing will be applied to minimize discomfort and swelling. The severity and duration of such side effects may vary, especially if another cosmetic procedure was performed at the same time.
Recovering from cheek surgery
Post-operative care and instructions given by your plastic surgeon should be followed strictly. Expect dietary restrictions and some check on your routine activities. Instructions for post-operative care vary, especially in the case of implant surgery was done in conjunction with some other procedures. Most often patients experience diminished mouth and lip movements for some time after the surgery. Usually the stitches for closing the incision made inside your mouth dissolve away within 10 days.
SEEK ADVICE FROM THE PLASTIC SURGEON ON SUCH MATTERS
As a part of your preparation for surgery, ask your doctor whether you will be able to drive on your own or will require transportation after surgery. Also, find out if you should stop eating or drinking a night prior to surgery. Tell your doctor about the medications you regularly take, and whether you should stop those; including aspirin similar medication. Your plastic surgeon may prescribe you a course of antibiotics before and after the procedure to prevent infection. Your plastic surgeon will provide information about these important matters during your pre-operative consultation.
WHERE YOUR SURGERY WILL BE PERFORMED?
Plastic surgeries may be performed at the hospital's outpatient facility, office-based facility, or at any freestanding surgical center. In some cases, an overnight stay is required after the operation. Your doctor is the best person to assess your after surgery situation and will advise you accordingly based upon your general medical condition or whether another cosmetic surgery was also done simultaneously with facial implant surgery.
RECOVERY AFTER CHIN RESHAPING AND AUGMENTATION
When your procedure is finished, bandages or dressings may be applied to keep the surgical site clean and to support the position of the reconstructed bone or implant during initial treatment. Preoperative cessation of smoking and alcohol use for 2 to 3 weeks. Postoperative should also follow this to avoid any strenuous activity, gym workouts and any contact sports for a period of 4 weeks. Post operative medicines will include a short course of antibiotics and pain pills if necessary. You can continue light action upon the arrival of medical procedure and will have the option to come back to work and your typical exercises inside 5 to 7 days.
You will be given specific instructions to follow during recovery from surgery: how to care for the surgical site, taking medications to implement therapy or aid in treatment, and specific concerns for infection, mouth pain, surgical viewing. To reduce. On site or in your general health, and when to follow up with a plastic surgeon.
Always remember that you will look and feel better within a short period after facial surgery.Nevertheless, certain activities should be restricted during recovery period. Especially the activities that run the risk of face getting bumped or jarred should be avoided for several weeks. Check with your plastic surgeon regarding this.
Contact us to know more about Cheek & Chin Reshaping and book an appointment with one of our surgical specialists today.