NOSE RESHAPING RHINOPLASTY
Nose Reshaping Rhinoplasty
Rhinoplasty, commonly known as a nose job, is a plastic surgery procedure for altering and reconstructing the nose. Reconstructive surgery seeks to resolve nasal injuries caused by various traumas including blunt, and penetrating trauma and trauma caused by blast injury
WHAT IS CLEFT PALATE NOSE RESHAPING?
Cleft lip nose deformity is a challenge to the best rhinoplasty surgeon. The deformity is a result of congenital defect in the lip and palate which though is corrected in an early age but due to restrictive growth during development, the nose become deformed. It is said that if yo do correction at the time of primary repair than chances of sever deformity is very less but nowadays it is said do not do primary nasal correction for it becomes very difficult to correct in the adult age. The deformity is of the cartilage and overlying skin which is very difficult to mould even if you recreate a new cartilage. There is lack of skin and mucosa which restrict its normal shape. There are lot of procedures given in literature but results is mostly dependent on the surgeon and his understanding of the deformity. I Dr Swaroop Singh Gambhir is a plastic surgeon and deals with cleft surgery since the day of birth and I do cleft lip surgery by open technique.
Nose is a centre part of face and correction of nose shape is called nose reshaping popularly known as nose job or rhinoplasty. It is the most common cosmetic surgery procedure.
The nose is centre of the face and it is first thing that anyone notices in the other person when he/she sees it. If anybody has crooked or distorted nose it decreases the confidence of the person and the person spends lot of time in its worry. In nose reshaping the nose is reshaped into the harmony of the other person face.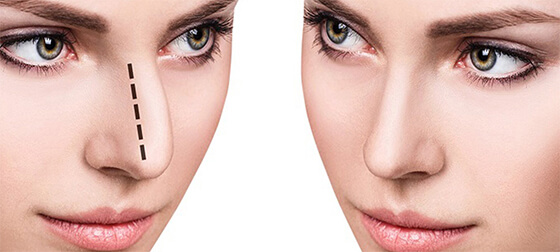 WHEN TO CONSIDER RESHAPE OF NOSE
• If you are unhappy with the shape or shape of your nose, you can consider a rhinoplasty surgeon in Delhi.
• If you feel that your nose does not fit on your face or it is too big or too small.
• If you feel blocked while breathing
• A nasal hump is also a very common cause for which a rhinoplasty is wanted.
• If you find that the tip of the nose is too heavy and lacks sophisticated shape.
• If you feel that your nose is too wide and your nose is too wide.
If you are choosing dermal filler for nasal reshaping, you want an expert who is knowledgeable and has a solid reputation for years. At Dr. S.S. Gambhir, we offer clients high-quality, inexpensive and personalised dermal filler treatments that they would love to receive amazingly without any complication.
Our clinical beauty team has a solid year of experience with clients in Delhi. No one restores the rejuvenated nasal looks more than the Dr. S.S. Gambhir. We want to build long-lasting relationships based on trust, so we can help you look better, and gain the confidence that you thought you were lost. We constantly thank you for the messages we have helped, this is the best support we can ever hope for!
NON-SURGICAL NOSE RESHAPING
Non-surgical nose reshaping, also known as non-surgical rhinoplasty, is a safe, non-invasive procedure to change or reshape your nose, to smooth out any bumps and irregularities. Uses dermal filler.
One of the reasons our non-surgical nose jobs are most preferred is because they are pain-free. After our nose reshape treatment, you may experience some swelling or tenderness for a few hours, but you will quickly see results and return to your normal daily routine.
Nose reshaping fillers is a biodegradable product, which means that it is not harmful to the body and is naturally removed from the body.
Contact us to know more about Nose Reshaping Rhinoplasty and book an appointment with one of our surgical specialists today.