Breast augmentation also known as augmentation mammoplasty is surgery to increase breast size. It involves placing breast implants under breast tissue or chest muscles. For some women, breast augmentation is a way to feel more confident.
BREAST AUGMENTATION SURGERY IN DELHI FOR APPEALING FIGURE
Breast Augmentation or breast implant involves enlarging or increasing the size of breasts by means of fat transfer and other modes. Breast Augmentation and the implant are suitable for ladies with underdeveloped breasts or whose breasts have lost their volume because of pregnancy or any other reason. Clinically, breast augmentation is also referred to as augmentation mammoplasty.
Dr. S.S. Gambhir n Smiles is the apropos center for the successful result of breast augmentation in Delhi. To be carried out by expert and veteran plastic surgeon – Dr. S.S. Gambhir is the best breast augmentation surgeon in Delhi, the result for the procedure is remarkable and unparalleled.
HOW LONG DOES IT TAKE TO RECOVER FROM BREAST AUGMENTATION?
It depends on how to take care of yourself after breast augmentation. She must follow the instructions of the breast implant surgeon for postoperative care. In this case, she can recover in a week or two. If a diabetic cannot control his or her blood sugar level, it can take up to six weeks. Again, it also depends on size.
WHAT ARE THE SIDE EFFECTS OF BREAST IMPLANTS?
Breast implants or breast discomfort have no major side effects. In this case, there are few effects, such as pain, swelling, bruising, chest muscle stiffness, and nipple recovery and sensitivity. These effects are small and disappear within a few weeks with no other side effects.
However, the surgeon prescribed ordinary antibiotics to the patient, which is the only risk of infection. If the patient recognizes any other side effects, he should seek medical attention immediately and get a prescription.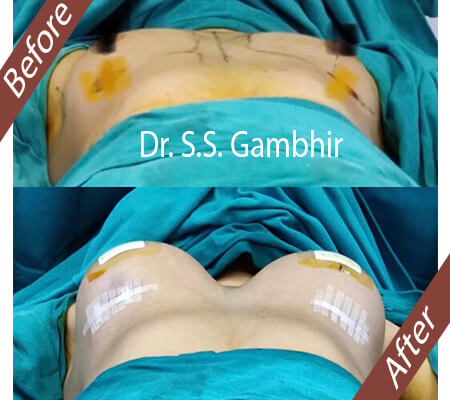 CAN I SLEEP ASIDE AFTER BREAST AUGMENTATION?
No, it is not recommended that you sleep on your back side after breast augmentation surgery. Your breast augmentation surgeon will tell you how to fall asleep or how to fall asleep to get back to health as quickly as possible. It is best to follow the doctor's advice and fall asleep accordingly. This is because sleeping on the side may not bring the ideal breast enhancement effect.
WHAT IS THE COST OF BREAST AUGMENTATION IN DELHI?
The average cost of is about RS 150000 to 225000 depending on the breast implant.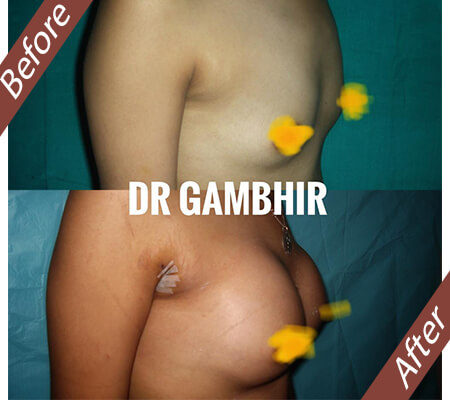 POSSIBLE RISKS OF BREAST AUGMENTATION
Ideally, when experienced surgeons perform surgery to lower the risk , there is little or no chance of error. However, this process may bring some complications, such as:
• Will definitely leave scars, but sometimes the scars become too obvious
• Possibility of infection or blood clot
• Inexperienced surgeons may result in a lack of balance between the two breasts or irregular placement of the areola
• Under normal circumstances, some extra fluid will accumulate after the operation, which is normal, may be drained to the drainage port, and the drainage port will also be lost. However, in some cases, the flow is too much.
• The nipple may have decreased sensation.
• The skin around the breast may become discolored or pigmented and will not disappear with the passage of time.
WHAT ARE THE PRECAUTIONS FOR BREAST IMPLANTS?
Take some necessary precautions to minimize the side effects of breast implants. The surgeon recommends that you should rest completely in bed after surgery and should be taken care of. On swollen breasts, ice packs should be used to reduce swelling and pain.
Antibiotics are prescribed for few days .
Contact us to know more about Breast Augmentation and book an appointment with one of our surgical specialists today.